Today, 23rd December 2011 marks the day for Symantec X'mas Lunch & Gift Exchange! :)
Very excited over the food we are gonna have and whether the person who gets my gift will like it or not... Anyway so here we go!
Thanks to my colleague who helped in all the ordering of food.
FYI, the food are from Kriston.
It's a little late to know now but you can always order it next year! :)
The Party Set that we ordered consists of ALL the below :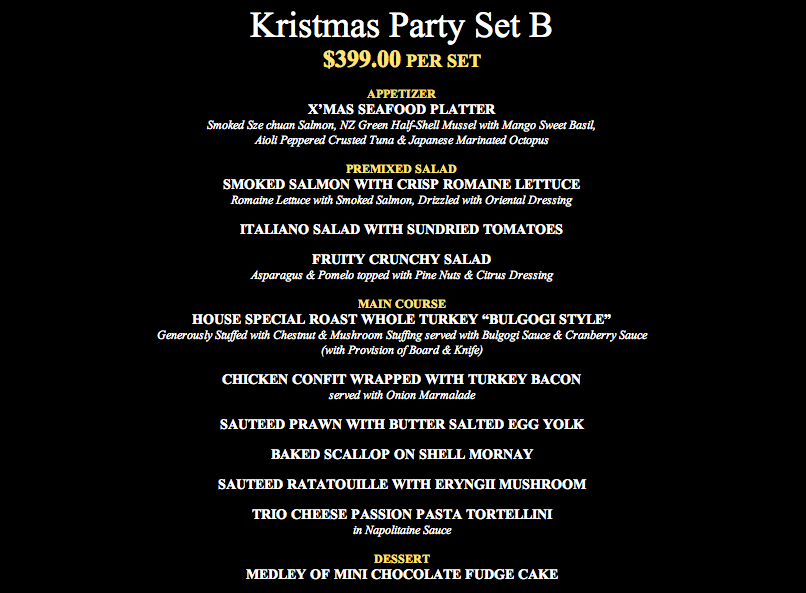 I really didn't had so much space in my stomach to eat/try ALL.
I skipped the salads.
I'll tell you what's good:
Smoked Sze Chuan Salmon, Half Shell Mussel with Mango, Baked Scallop, Chocolate Fudge Cake
Those I did not list doesn't mean that they are not yummy, just that I didn't try.
Like the Prawn, I believed it's good but I'm lazy to peel.
Anyway, the fudge cake was really good! I had 4-5 of it!!! I practically finish up what was left in the box!
Potato with Bacon Bits (it doesn't seem to be in the menu & I got no idea why!)
Totally got no idea what's this, it's not in the menu either!
Anyway it's something like Chicken (shredded) Pie.
Honey Glazed Chicken Ham with Pineapple Sauce :)
Yummy with the refreshing pineapple sauce!
Roast Beef.
It came in a huge chunk and we spent sooo much effort trying to cut into pieces!
Even when it came in pieces, it was still too hard! :(
The sauce that came with it was good thou.
Shepherd's Pie from Dad's Shepherd's Pie.
It's really good! Not too oily and it comes in standard tray, mini set and party sizes!
We ordered party sizes!
There were leftover so I brought 2 of it home and warm it up..... OMG YUMMMMY! :)
Joe, the one who always grabbed a handful of Jellybeans!
He got to do it! Sliced the HUGE Turkey!
Anyway, Turkey is just like chicken breast meat!!!
And, everyone got a super creative Christmas card from Joe!
Can you tell what's that??!
It's Joe's BACK!!! He is doing "ba guan" & using that as 'decorations' for the Christmas tree.
Super creative, AMAZING! :)
. . . . .
Concluding the day with presents/goodies I've received.
Received a brown pouch for the gift exchange.
The colleague who received my present is also the same person who I got my present from. :)
My lovely colleague who bought each of us (my team) a diary/planner.
It comes in 4 different design so just nice each of us got a different design! :)
Super cute and totally loved the way she wrapped the present but I forgot to take a picture of it!!!
Cute snowman cookie from my another colleague (my team) & her bf who is working in Symantec as well!
A goodie bag from someone from another department, just because I helped her to wrap presents.
A box of cookie from a relatively new colleague in my department. A funny lady :)
OK, that's all for my company's X'mas Celebration!
Hope you enjoyed yours too!
I'm gonna stay home to read a book that I just bought and watch TV at night!
Not gonna squeeze in the crowd!
BYE!
g s i a n g , s m i l e s .