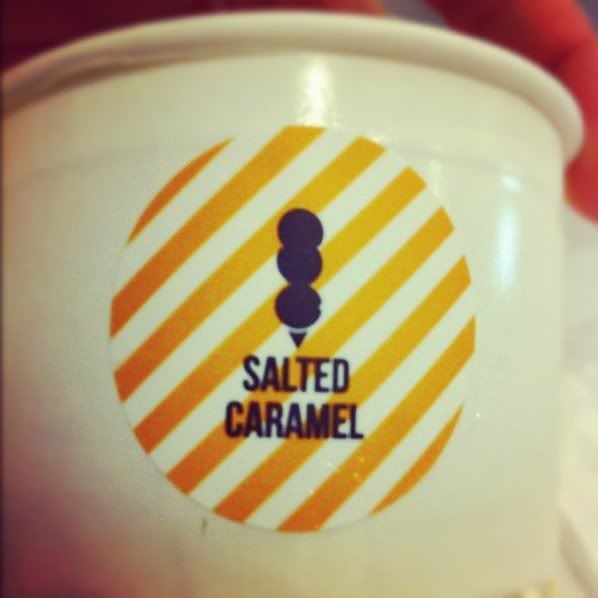 Just a quick update on how I spent my Friday night.
It was a really great night spending with Singyee, Yinghui, Jiaqi, Vonne & Yongquan.
Thanks Singyee for suggesting & bringing us to
Lavender Food Square/Court
for dinner.
We had yummy Frog Leg Porridge, Lala & 菜谱蛋 "cai pu dan"!
The Lala was not worth mentioning BUT the 菜谱蛋 ........
OMG DELICIOUS
!
It wasn't like normal one whole piece of fried egg. It was more like scrambled egg and topped with garlic! I never really like garlic but it was so crispy and tiny that I just ate it without even bother picking it out!
Frog Leg Porridge is super yummy too & I totally loved the sauce!
OH . . .
Anyway it was such a coincidence that I bumped into Yvonne over there! OMG! I can never imagine seeing her there. Lavender Food Square is not like town where everyone will go... But I just so happen to see her there! Really my FA mate... Hahaha :)
Vonne & Yq left for a party after dinner, leaving four of us & we decided to have dessert at
Salted Caramel, Thomson
.
What's Salted Caramel without Salted Caramel ice cream???
Sadly, salted caramel ice cream was sold out, baileys as well... :(
I had peanut butter & strawberry flavours instead. I liked the peanut butter. It was thick and creamy. But I don't really like the strawberry, tasted kinda 'bland'...
Their brownie was soft, very good too!
Got to thank Jon who dropped by & treated ALL of us to ice cream! Whoohoo! :)
After all foodies, time to burn off some calories so we did a CAR WASH for Singyee's car!!!
MY F I R S T CAR WASH!!!
It was quite interesting & not that bored with friends doing it together.
We were jokingly saying every 25th Nov will be a Car Wash Day, so let's see who will remember!
That is also one of the reason why I'm blogging today, just so if I happen to forget the Car Wash Day, at least there is somewhere I can 'refer' to.
I hope I'll remember this day thou.
So that's really about it. I will really want to go back Lavender Food Square for the yummy egg. And if I happen to be back there, I must take a picture of it to share on my blog!
Ok, goodnight people & I'm gonna continue with my
Forensic Heroes III - 法證先鋒III.
g s i a n g .
be together with the happier people, you will be happier too...