if you haven't read on Day Three, click here.


What's the plan for our Day Four?
It's Taipei 101, Mr J Restaurant, Miramar Entertainment Park and lastly Shihlin Night Market.


Taking a train to Taipei City Hall Station...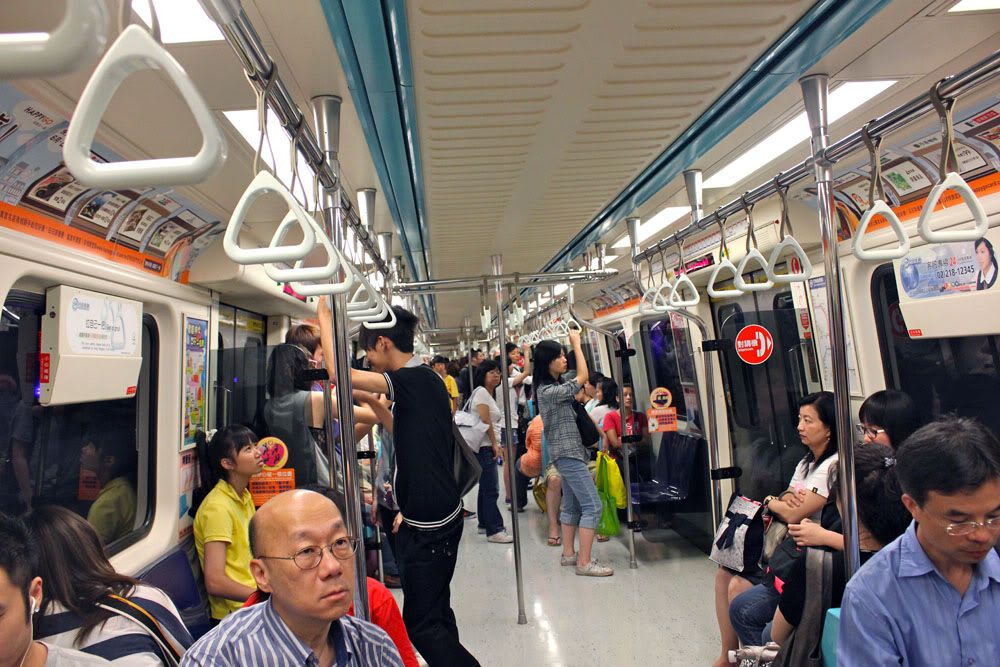 Underground mall which is a bit like our City Link.
Breakfast or in fact Brunch!
Very creative way of helping people decide which bread to buy!
They cut the bread into halve to see what is inside.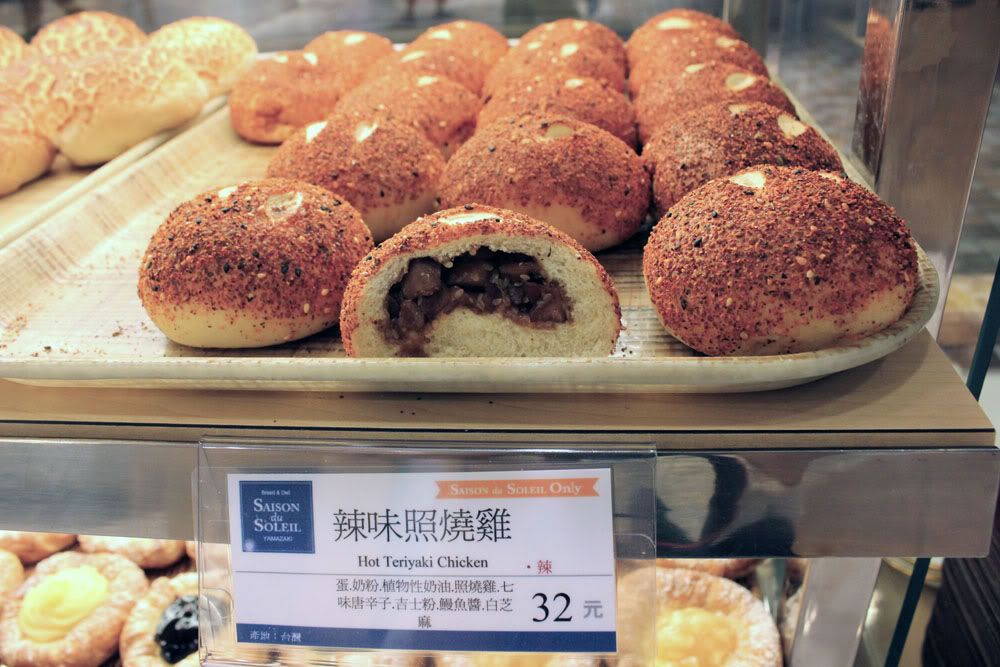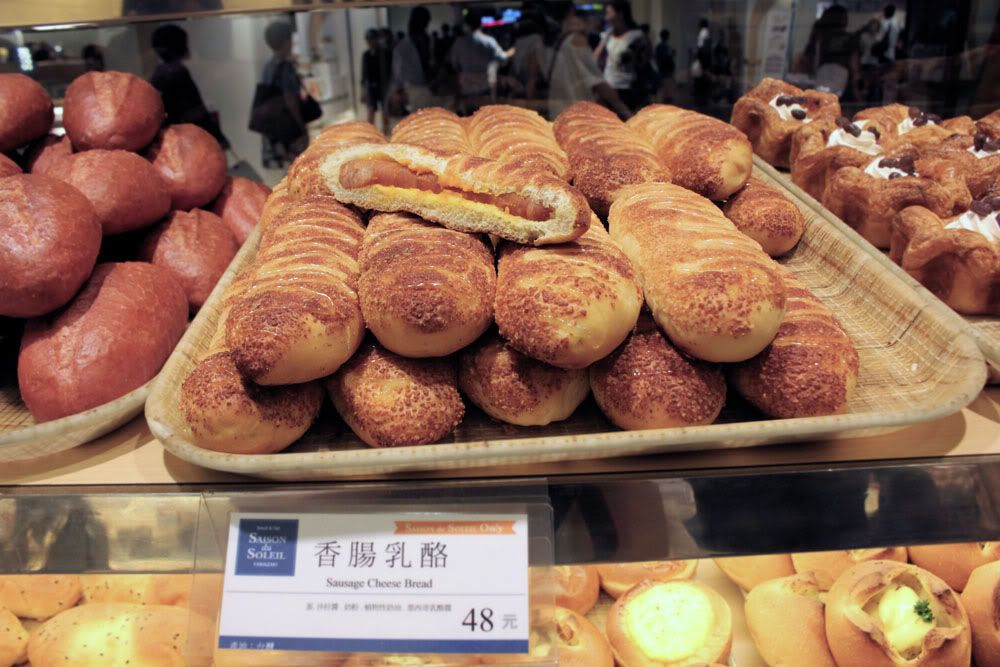 This is what I had! I LOVE CHEESE! :)
Additional munchies to share.
It's Cheesecake tart with some berry jam.
T A I P E I 1 0 1 !!!
Taipei 101 selling all different kind of high end goods! Not for us!
Little mascot telling us which level we have to go to for the ticketing counter.
It costs NT400 (SGD$17.30) to go up and they actually limit a number of people going up at one time.
You just need about 35 seconds to get up to the highest level! Damn fast right?
And this is what you will get to see!
After I saw the scenery, I'm thinking Singapore is really soooo damn small! Hahaha :)
Anyway, so up there are some exhibits which we are not really very interested.
This freaking Taipei 101 wine costs NT38800, which is near to SGD$1700! OMGGGG!
Something that I really love there is BIG TOM!!!
They have really nice and creamy ice cream! Give it a try if you are there!
We are very unlucky because after we were told that we can't access to the Observatory Deck due to the rain! Damn! The Observatory Deck is the outdoor area and should be very windy and nice to be there!
See, we are like at the same level as the cloud!
Ok, now we are above the cloud and we can barely see anything below! Sucks right?
This is the thing which is used to support the whole building & you can actually relate it to the mascot of Taipei 101! Hahaha :)
There are many other exhibits too but we just didn't bother to see it! Hahaha!
Food!!!
I don't know why but they sell quite a lot of Hello Kitty stuff there.
That's all for Taipei 101 and we bought a photo to keep it for memories purpose.
That one photo cost us NT300 (SGD$13) and we should get another kind of photo instead of this.
The other kind is the more interactive one which you can 'climb' Taipei 101 and many different moves.
My brother bought that and only cost NT350! Much more nicer than what we had!
After Taipei 101, we walked to Shinkong Mitsukoshi New Life Square
新光三越
Can see this scene in many Taiwan dramas...
We went back to Taipei City Hall Station by the free shuttle bus and took a cab to Taipei Medical University for Mr J Restaurant.
I'm so excited to try the food there! Hi Jay Chou! Hahahaha :)
Souvenirs corner!
This is kinda cute! Hahaha! :)
Overall the food there is not really expensive. The price range is something closer to Pasta Mania.
Affordable and the portion is really big!!!
I can't remember the exact name of it, but is something like stir fry mushroom & prawns.
The mushroom and prawns are very fresh and nice, however I just don't really like the herb taste that comes with it. Overall is really good.
Chris's Aglio Olio is a disappointment...
From the look you can tell it is different from our normal Aglio Olio...
Please order their creamy pasta! It's a very safe choice!
My carbonara, yummy! :)
Huifen's Salmon Creamy Pasta, very yummy too! :)
Yvonne's pasta, don't know what lobster pasta which comes with the herb taste again! Hahaha!
Please don't order any red sauce pasta if you don't like herb taste!
very normal cake that comes with Yvonne's set meal!
Fennie and I went to take photos with the piano and we don't know if we can sit on the chair..
Luckily not many people in the restaurant, so not very paiseh to take photos with the piano! Hahaha :)
So disappointed with my DSLR. Why the picture so blur when I asked people to take photos for us?
Bye Mr J @ Taipei Medical University! We visited another outlet of Mr J the following day! :)
So shall comment and advice which outlet you should go on my next post, Day 5.
Taipei 101 at night! So pretty! :)
Ok, cab AGAIN to Miramar Entertainment Park for ........
A mini outdoor cafe for chilling...
Very mini Merry Go Round, so insignificant beside the huge Ferris Wheel!
Another HUGE disappointment!
First, it's raining and so all the glass around the cabin of the ferris wheel is wet, with many water droplets & I can't take any nice photos!
Second, the ferris wheel didn't really turn like a whole round after all went in the cabins. I felt as though they just turn the ferris wheel to let people come down and new people go up. That's all!
Really nothing fantastic or WOW but luckily it's just NT150 for a ride!
See, get what I meant? Droplets everywhere!
This is like almost the best I can take behind a glass!
Photos in very shitty quality also! I'm such a lousy photographer! I need to learn more!
Shihlin Night Market still the best so we are back for food and clothes!!! :)
Very cute but exp pouch!
Something which is similar to Lok Lok but we didn't try... because the soup is not spicy kind :(
We tried this too.. very normal, nothing special!
Please remember to try this!
If you remember the first night we went to Shihlin Night Market and bought the fried potato and cheese food, this is the nicer stall!
Both selling the same food side by side, but see the queue & which one will you go?
Of course is the YELLOW one right?!! Hahaha :)
I feel like having this now! This stall is definitely nicer than the other stall we had on the first night!
Fake Sharkfins Soup! VERY VERY NOT YUMMY AT ALL!
Each of us had a spoon of it and threw it away! Because it tasted like Smelly Toufu!!!
Hahahaha!
The end of Day Four.
And you are halfway through my Taiwan journey!
Continue to wait for Day Five....
g s i a n g , s l e e p y m o d e