Last Saturday, 18 June was the celebration for Rayne's 22nd.
It was a simple and fun day spent at Studio M with our usual clique plus her BFF and her B! :)
Pony balloon that her BFF, Janice got for her.
XOX is here to celebrate with her :)
We were the first group of people to reach, nothing to do? Camwhore!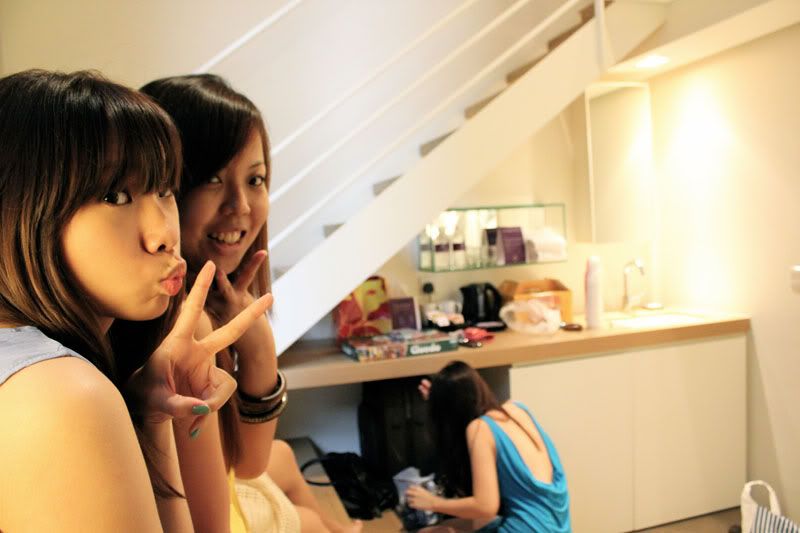 Karen did this pink/red BROWNIE for Rayne with cute heart shaped design on top!
It really didn't tasted like brownie because of the colour! However, it still tasted yummy! :)
Rayne is never short of liquor. And I actually took the Midori back home so that I can use it on my birthday! Wahahaha! Thanks Rayne! :)
While waiting for the rest to come . . . . .
Rayne & Janice! So coincidently that they both wore the same colour clothes! Really BFF!
Finally my FA mate came! Yvonneee ~
And now, we can finally cut cake! :)
See the cute pony and heart candles that Janice prepared for Rayne! So cuteee! :)
Rayne & her B, Andy.
. P R E S E N T T I M E .
Guess what did we get for her? She can tell from just the wrapping paper itself!
We got Diana F in hot pink for her! Now she called it Mr Pinky! :)
Spoiler of the Day : The Birthday Cake, Swensen's Ice Cream Cake
WHY?!
There is no freezer in the room, only fridge sooooooo the cake melted!
Then, we asked the hotel person to put it in a FREEZER for us & we collected one hour later ......
This was what happened.
M E L T E D
LOW CEILING, PLEASE MIND YOUR HEAD.
Next second
.
.
.
.
.
.
.
*O U C H*
Big Head Chris hit the ceiling and fell 'dead' on bed! Wahahaha :)
Night ended with awesome game, Cluedo!
. Little Thoughts .
Studio M is hotel with quite attractive concept of 2 levels in a room.
The toilet is O M G small plus no ventilation at all. BAD :(
However, overall is still consider good.
Anyway, above images are taken using my new camera with the help of photoshop.
I think the photos are too orangey right?!
Counting, 2 weeks & 3 days to Taiwan!
B Y E
g s i a n g , B a b y G i - m y n e w n i c k