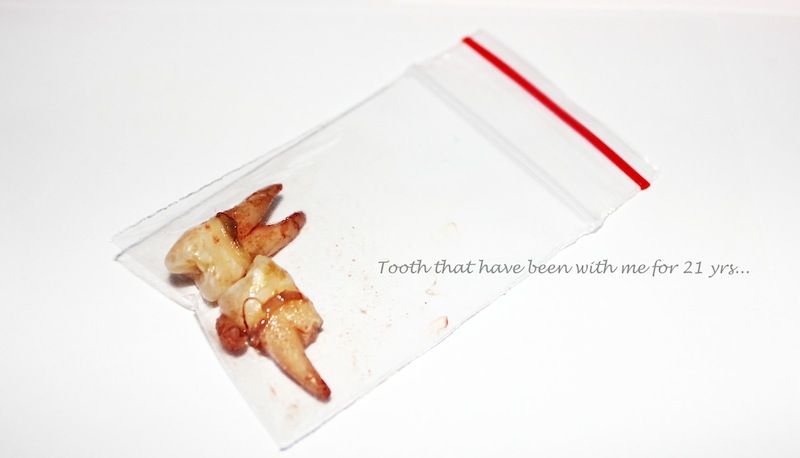 Pluck up my courage & go for it !
I went for a consultation with Dr Stefan Vanz from About Braces.
I had quite a bit of fillings to do so I decided to clean, polish, fillings and all the necessary stuff to make my teeth in the best condition before having braces.
May
Ok, I procrastinate for a long time before getting the filling and polishing done.
Finally getting all done & spending a total of close to a $1000 for 7 fillings (inclusive of some weird names fillings) and polishing. There goes my dental claim for this year! :(
Another 2months passed and I had the money for downpayment of $1000 (min.) and went down to About Braces to pay for it and booked appt for TOOTH EXTRACTION!!! 2 tooth to be extracted!
Having the fillings done (and I even had jabs on my gums) was bad enough and what now?! Tooth Extraction?! How scary it was for me?! I swear, I was super nervous and worried. In additional, I was all ALONE by myself! Thank god it's all over now! *pat shoulder*
pre tooth extraction post HERE
Waited for a week for the wound to heel before putting on just the top row braces.
I'm not really that worried when comes to putting on braces because I knew it would be quite painless BUT uncomfortable. I just need to get used to it.
This is the first day having braces!
"Welcome to the world of braces!"
Now I have to abide by the rules below for about 1.5-2 years!
I'm pretty curious why can't I eat any kind of NUTS?! What's wrong with nuts?
Anyway, I still ate it and my braces still look fine!
[ 3 essential tools ]
Ortho toothbrush, mini brush and wax given by the clinic.
I don't really use the wax. I only use it like maybe 3 times and gave up. It's just too troublesome.
The two photos below are taken after having braces for 10 days!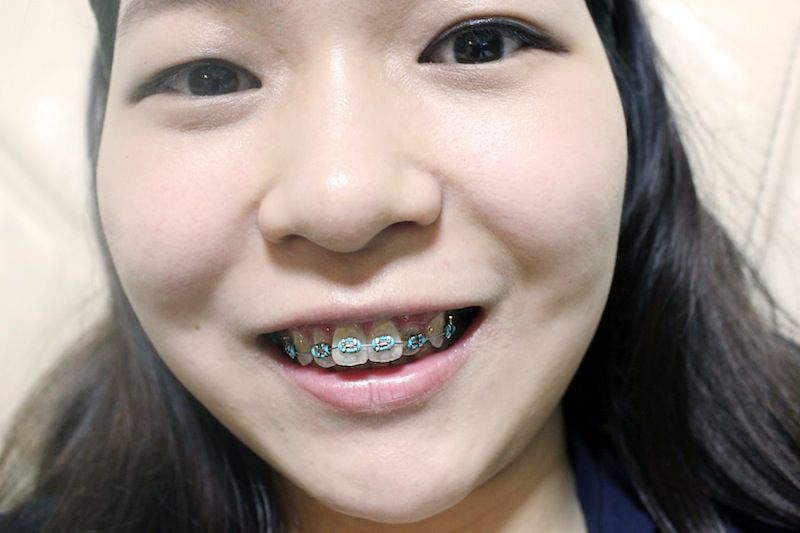 There are problems which I'm facing because of braces so will like to share it here...


If you are prone to ulcers, you might really get it very easily while having braces. Lucky me who don't really get ulcers, even if I had they are quite painless ones. Inevitable, I still get it due to braces but quite painless thou so can't be bother.


2) Eating hard/big chunk of food
You definitely, absolutely, confirm CAN'T eat BIG plus HARD food!!!
Even after having braces on for about a month, I still can't really bite a chicken wing! I need to PEEL the chicken wing. This just have to go on for the entire braces journey.


Personal Experience: On the 2nd day of having braces, I bought a sausage bread into the theatre to have it while watching The Amazing Spiderman. So, I ended up eating the bread and the sausage separately and worst of all, I got to TEAR the sausage into small pieces to eat it! It's just way too hard to bite it using my teeth!
Way out is to cut big pieces of food into really small size and chew it using the back teeth!


As expected, food stuck real easy when eating.
Especially RICE. They are small and get stuck so easily. At least when noodle gets stuck, it is long enough to use your tongue and teeth to pull it out (just like a pulley if you get what I mean).


Most HATED- Chilli flakes!
Small, flat and it just sticks to your tooth! I'm putting a mirror in my lunch pouch and checking my teeth after every meal. It's just so unsightly to see any vege or chilli flakes sticking on your teeth!
Personal Experience: I had chilli flakes stucked to my teeth for abt 2 hours unknowingly and was talking to my colleagues all along and nobody told me. DAMN PS!

...........................................................................................................................................

Lastly, if anyone of you are interested to know the doctors I went for filling, extractions and braces, these are for your information.
For normal dental checkup (fillings, polishing..) : Dr. Sherina from Q&M Dental Centre (Centrepoint)
For extraction (recommended by Dr Vaz) : Dr Winston Tan (a really funny guy) from The Oral Maxillofacial Practice (at Camden Medical Cenre)
For braces : Dr Stefan Vaz from About Braces (he's the only orthodontist there)

I paid $3900 (before gst) for my braces which includes consultation, x-ray, mould, extraction and retainer.


I'm hoping to do up a monthly post on braces.
Probably showing some pictures of the movement of my teeth.
Keep a lookout for the next post!
love, gisiang